Smoking and asthma is a dangerous combination: smoking worsens airway obstruction and inflammation, accelerates lung function decline, and decreases sensitivity to inhaled corticosteroids therapy.
In a small, retrospective study presented by Dr. Cristina Russo at the 2015 American Academy of Allergy, Asthma and Immunology meeting and published in the Journal of Allergy and Immunology, data were presented supporting a benefit of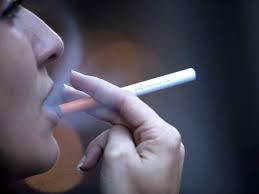 e-cigarette use in smokers with mild to moderate asthma.
Of the 18 study individuals, use of e-cigarettes was associated with a significant drop in cigarette usage: from 21.9 cigarettes per day at baseline, to 5 daily at 6 months and 3.9 daily at 12 months. There was a coinciding significant improvement in mid-range airflows, improved asthma control scores, improved bronchial hyperreactivity (requiring twice the methacholine dose to elicit a 20% drop in FEV1), and significant reduction in asthma exacerbation rates. There was no difference, however, in hospitalization rates for asthma.
In this pilot study, there is support for e-cigarettes as a method to decrease cigarette usage and reverse respiratory harm in smokers with asthma.